What is the Iowa Association of Pathologists?
The Iowa Association of Pathologists (IAP) was formed in 1940 and represents the practice of pathology in Iowa. Any pathologist who holds a valid license to practice in Iowa and whose primary practice is the field of pathology is eligible for active membership. Resident physicians in pathology are eligible for free membership in IAP. Nationally, IAP is affiliated with the College of American Pathologists (CAP). Members of the IAP Board of Directors represent Iowa pathologists at the CAP Annual Meeting each year.
The stated purpose of IAP is to: • Promote the public health and safety by a wide application of pathology to the diagnosis and treatment of disease; • Represent the practice of pathology in Iowa; • Stimulate research, conduct seminars and other educational programs; • Disseminate educational materials designated to acquaint pathologists and others with scientific developments in clinical pathology; • Participate in establishment of voluntary standards to improve the practice of pathology.
The IAP holds an Annual Dinner each November, alternating between Des Moines and Iowa City.
IAP Officers and Board of Directors
PRESIDENT
Sarah (Beth) Kilborn, MD
Iowa Pathology Associates
1212 Pleasant Street, LL3
Des Moines, IA 50309
Term expires December 31, 2024
SECRETARY-TREASURER
Joe Eaton, DO
Pathology Associates of Central Iowa
1111 6th Ave
Des Moines, IA 50314
Term expires December 31, 2024
PAST PRESIDENT
Bryan Steussy, MD
Pathology Medical Svcs. of Siouxland PC
2720 Stone Park /Boulevard
PO Box 2000
Sioux City, IA 51104
Term expires December 31, 2024
ADMINISTRATIVE STAFF
Mary Lyon, Executive Director
Iowa Association of Pathologists
515 E. Locust Street, Suite 400
Des Moines, IA 50309
515.421.4773
[email protected]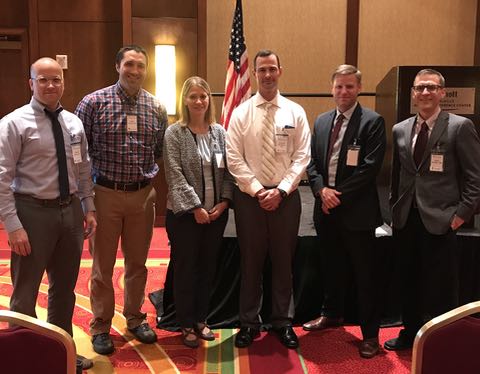 Image: Members of the IAP Board of Directors at the IAP Annual Dinner in 2017 at the Coralville Marriott. Pictured are (from left); Joseph Eaton, DO; Bryan Steussy, MD; Ramona Thompson, MD; Jonathan Thompson, MD, Clinton Crowder, MD  and Jamie Weydert, MD.
IAP Historical Vignettes
Following is an account of the founding of the Iowa Association of Pathologists.
"The date was May 1, 1940. The time was 1:00 pm. Seven men entered Room 835 at the Hotel Fort Des Moines in Davenport, Iowa. They had converged from as far away as Sioux City. The task ahead of them would lay the foundation for decades of social and scientific endeavors.
This was the first meeting of what was to become the Iowa Association of Pathologists. Those men were: Frederick Lamb, MD, Davenport; Frank McNamara, MD, Dubuque; Friederich Hecker, MD, Ottumwa; Julius Weingart, MD, Des Moines; James Kahler, MD, Des Moines; Allen Starry, MD, Sioux City; and Harold Morgan, MD, Mason City.
The first order of business was to adopt a Constitution and Bylaws and elect officers. The officers were: Dr. Lamb, president; Dr. McNamara, vice president; Dr. Morgan, secretary-treasurer. Executive Council officers were: Dr. Mulsow, Cedar Rapids; Dr. Heckler and Dr. HP Smith, Iowa City.
Dr. Morgan was to contact prospective members. He contacted Drs. Smith, Brinkhouse, Warner and Borts of Iowa City; Dr. Johnson, Council Bluffs; Dr. McMillen, Fort Dodge; Dr. Wehman, Burlington.
With the business out of the way, Dr. Lamb gave a report on centralization of laboratories as carried out under the policy of Iowa State Board of Health. Plans for an appeal to the House of Delegates of the Iowa State Medical Society were made.
Second meeting of the Iowa Association of Pathologists
The October 19, 1940 meeting of the IAP was held in the Seminar Room of Medical Laboratories Building. Dues were discussed. It was decided that an initiation fee of $5 should be collected and annual dues were set at $1 a year on call of the secretary-treasurer when necessary.
A committee was appointed to study the problem of county coroners and the possibility of the medical examiner type of set-up. Dr. Smith stated he would be very glad to have members send technicians to Iowa City for short periods of study by the apprentice technique. They would receive intensive training in specialized procedures and receive no credit or certificates for courses.
It was decided to meet in Iowa City once a year and have a second meeting held in connection with State Medical Society as a luncheon meeting, possibly with a speaker from the program of the state meeting. Dinners should be on a Dutch-treat basis.
Scientific portion of meeting:
There was a demonstration of equipment and new procedures by Dr. Brinkhouse. Scissor Grinder demonstrated. Clarite Mounting Media and Vue-Pak, substituted for Canada Balsam and for cover slips were discussed. Dr. Smith reported on research work on vitamin K and synthetic products of this nature.