IAP Annual Dinner – It's on a Friday!
The IAP Annual Dinner is Friday, November 8, 2019 at the Graduate Iowa City. Please note, we've moved the dinner to a Friday evening. The event begins at 6 p.m. with a social time, with dinner to follow. Be sure to register today!
Paper Registration Form: IAP Registration Form 2019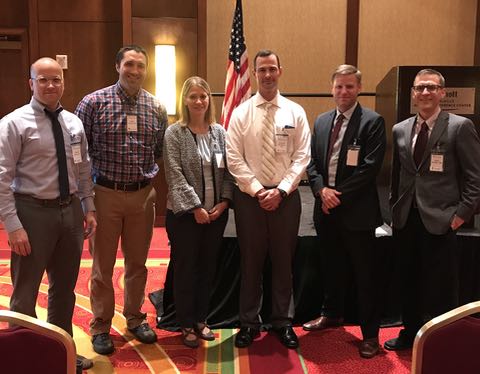 Members of the IAP Board of Directors at the IAP Annual Dinner September 21, 2017 at the Coralville Marriott. Pictured are (from left); Joseph Eaton, DO; Bryan Steussy, MD; Ramona Thompson, MD; Jonathan Thompson, MD, Clinton Crowder, MD (IAP Secretary-Treasurer) and IAP President Jamie Weydert, MD.
New issue of IAP Update
Check the IAP News section for the latest issue of the IAP Update newsletter.
The IAP Update is a benefit of your membership in the Iowa Association of Pathologists. If you'd like to pay your 2020 dues early, go to the Pay Your Dues section, where you can complete an online dues statement and pay via credit card.
Thank you for your support of the Iowa Association of Pathologists.